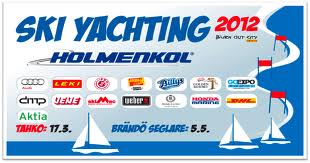 Ski yachting is taking a breake year 2014!
Holmenkol Ski Yachting is a fun competition for both skiers and sailors. On this page you will find information about the competition and an electronic registration form.  The contest consists of two races.  In both races you will race as a team. Downhill skiing in Tahko and sail racing in Brändö Seglare in Helsinki.
Holmenkol Ski Yachting downhill race in Tahko

Friday 16.3.2012
19.00-21.00 BEFORE SKI at Ukko  

Saturday 17.3.2012
10.00 training
11.00 first run
Lunch
12.30 second run, afterski Tirol
19.00 Prizegiving ceremony at Ukko
Price: 50€/person. FI0887000710333986
Holmenkol Ski Yachting sail race at Brändö Seglare

Saturday 5.5.2012
Racing area: Brändö Seglare, Granfeltintie 10.
Time: Skippersmeeting at Brändö Seglare 10.00 first race 10.30. We sail as many races that we can (short races many starts). Last start 16.00.
Boats: The sailrace will be sailed with Burn Out Citys 606-sailboats with a crew of 3 persons. No Spinnaker!
Price: 150€/team. The price includes lunch at the clubhouse!
After sail: 18.00 Award ceremony at Brändö Seglare clubhouse and buffet dinner.
Registration and more information: info@burnoutcity.fi or with the electronic registration form below!
Registration before 9.3.2012. Late registrations 70€/person. (Tahko)

Pictures and information also on Holmenkol Ski Yachting Facebook site!