What to do in Helsinki summer 2023? Look no further, we have all the best outdoor activities you can do on the sea outside Helsinki.
Burn Out City is a Finnish company established in 1998. We offer unforgettable activities, tours and programs for companies, groups and tourists. The activities take place in the Helsinki region and its archipelago and surrounding areas. We aim to provide experiences and activities that you rarely get in everyday life.
You can enjoy the unique Finnish nature just a few minutes away from downtown Helsinki. We offer a wide variety of activities, but on top of these we can tailor almost any program that your group desires. We offer full service from transportation and accommodation to superb Scandinavian catering.
We combine our solid knowledge and experience with the unique northern nature and deliver activities that are far above expectations! Our crew is famous for the natural talent to entertain. Our multilingual skills will help to make your event a great experience.
RIB boat safaris
Combine speed and scenery on a private cruise around Helsinki's archipelago! Step onto a cutting-edge RIB with an experienced captain at the controls, and cruise by top Helsinki sights. The program always includes equipment for all the participants and when it comes to safety we never compromise. We always have a crew of two persons on our RIB tours. One boat can take 12 customers. Read more…
Sailing regattas
We arrange corporate regattas, sailing tours for tourists and yacht deliveries for private yacht owners. We have a large number of J70-sailboats, dinghies and larger yachts in our fleet. Read more…
Rowing tours
For a breath of fresh air and a taste of traditional Finland, hop into a wooden rowboat 12 metres long! We use the boats for fun ecological exercise, sightseeing and races. Our professional guides will teach you the best rowing technique. Read more…
Snowmobile tour in Helsinki and Sipoo archipelago
Do you want to enjoy the true beauty of the archipelago and its nature or do you see the driving itself as the main purpose for the safari? Whatever is your reason there will be something here for you! Come on a snowmobile safari with us! The snowmobile tour is Covid-19 safe. We are outdoors and the  participants wear balaclavas and helmets. Safety distance between snowmobiles 30 meters.  Read more…
Glass Igloo accommodation
The glass igloo is a luxurious suite for two. The floating igloo is equipped for a comfortable and adventurous holiday. The biggest feature is the unobstructed floor to ceiling view of the sky and the outside. You can book this accommodation from our other website archipelagoigloos.com
Hovercraf tours
Experience the Gulf of Finland in a hovercraft! Our guides will lead you to the amazing winter wonderland in the archipelago in Helsinki metropolitan area. Read more…
Curling
During wintertime we organize curling tournaments on the ice outside our snowmobile base in Sipoo and year round in different ice hockey stadiums in Helsinki. Read more…
Kicksled and ice fishing tour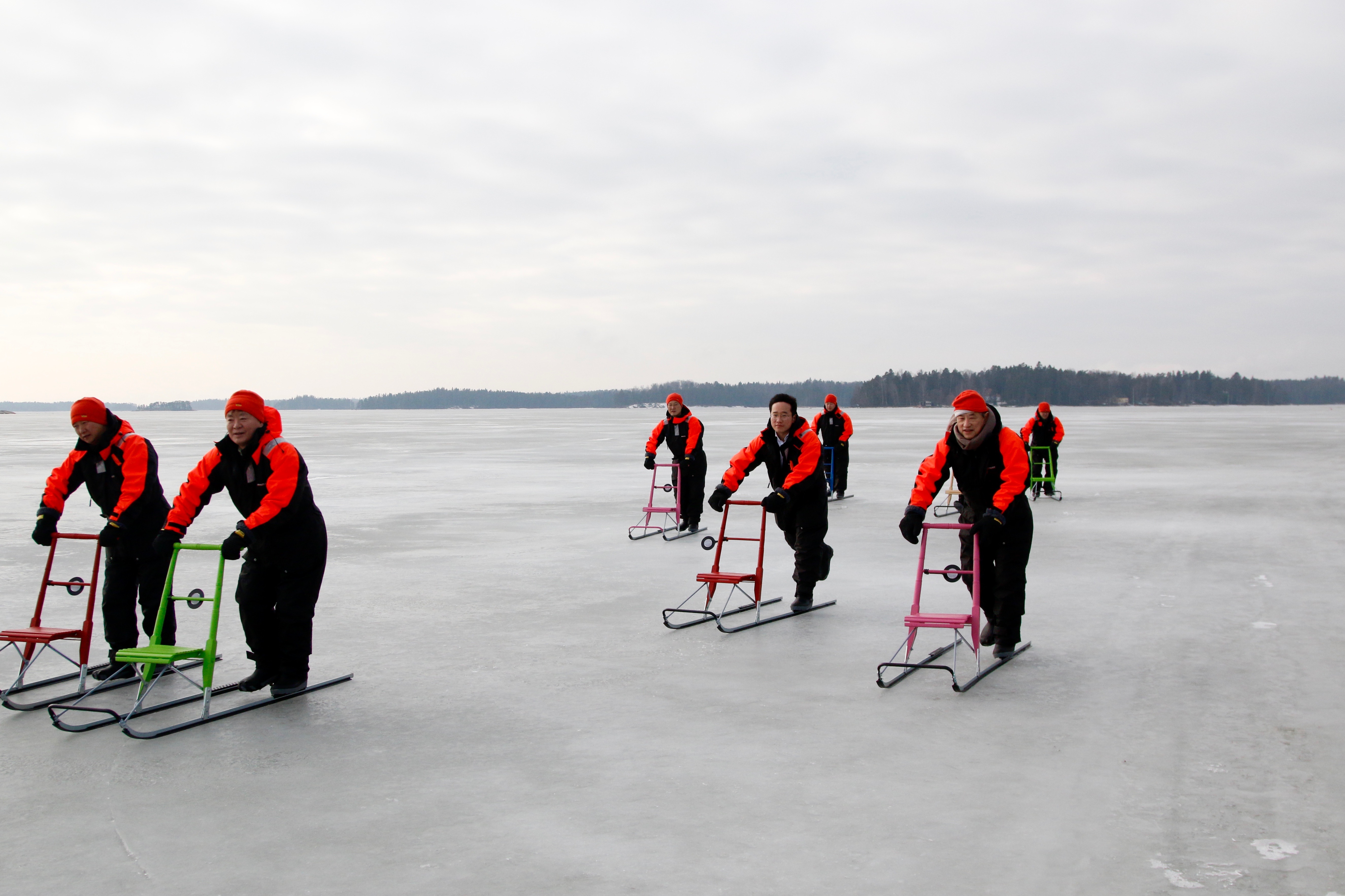 Welcome on a kick sled tour in the Archipelago. During this tour you will also experience ice fishing. Read more…
What to do in Helsinki in December and January? Have a look at our nature tour, also suitable for families traveling with kids. Read more…
Ice carving competition
Ice sculpting is the coolest corporate event you can do! We have the best ice sculptors in the business to show you how to create some of the most creative and innovative ice sculptures in the country. Read more…